Alberta's third largest city is making it's annual appearance
July 6 – 15, 2018
The Calgary Stampede!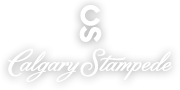 The economy is steadily picking up steam, and our beloved Stampede is booming! In a 2011 poll, 40% of locals who were sure they would visit the Calgary Stampede Grounds are expected to spend $150-$400. In 2017, there was MORE than 1.2 million visitors which is an increase of 10.4% of visitors compared to 2016.
This is the perfect chance to promote your business venture and become more visible with our Western Displays.
Think, Plan and Act!
Now is the time to plan the ultimate Stampede style for you!
Why should you, as a business owner be involved with the Calgary Stampede? It's not like you don't have other things to worry about, right?
Stampede is a business opportunity!
Over 2 million mini-donuts are consumed every year at the show
Approximately 70% of people who go to the show every year are from Calgary
On each day, over 120,000 people visit the Calgary Stampede, making the Stampede Grounds the third largest city by population in the province of Alberta
An estimated 200,000 pancakes are served around the city during the 10-day event
There's an "app" you can download called Flapjack Finder that shows you where all of Calgary's free Stampede breakfasts are every day
Show your spirit and take 10 days to celebrate in style! Show the city and all of it's visitors that we Stampede as a city.
Acquire new clients and amaze your existing customers with our country, western and rustic thematic displays!
Nothing says "Stampede" like genuine western-themed items and displays; leaning cowboys, stacks of fire retardant straw bales, wagon wheels, saddles with stirrups, and much more.
We provide indoor and outdoor custom made and tailored displays! Your only job is to pick and choose what you like best from our offerings!
Our team will take care of the rest, including custom design, supply, installation and tear down of displays so you have nothing to worry about.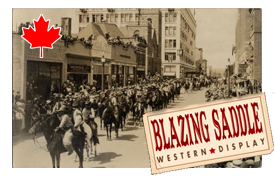 Our display items include…
• Branded Signs
• Silhouettes
• Western Props
• Fire Retardant Straw Bales
• Wood Lettering
• Decorative Fencing
…and more!
Need something extra? We can provide that too!
Not sure what you need? Check out our package options…
Let us help you stand out from the competition for
The Calgary Stampede 2018!