Alberta's largest annual event is happening July 7 – 16, 2017
The Calgary Stampede!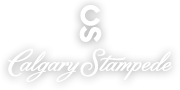 In recent months there have been signs that the economy is slowly improving. The key to everyone's success is positive thinking. Calgary as a city has been dragged along with the ups and downs of this painful recession. But we know best of all that there is a light at the end of the tunnel. Be positive! Things will get better. The Economy can't stop us from celebrating as Calgarian's do best with our beloved Calgary Stampede!
This is a perfect chance to promote your business venture and become more visible with our Western Displays.
Think about it, plan accordingly, act upon it!
Let's use this opportunity as Calgarians to combine business and pleasure, and celebrate in true Stampede style!
So the question is, why should you as a business owner be involved with the Calgary Stampede? It's not like you don't have other things to worry about, right?
Well, with the economy moving toward recovery you can't afford to just sit, wait, and hope people will come to you.
Remaining competitive isn't enough these days, you have to do something extra. Ask yourself – "What makes my business stand out from the competition?" Yes, it's an investment and times are tough…but can you afford NOT to make that investment? Save a penny today, lose a loonie tomorrow.
Stampede is a business opportunity!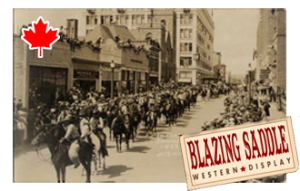 More than 1 million people attend the Stampede each year
More than 3 million people visit the Stampede year-round
Many visitors are coming from outside Alberta or even from abroad
Some make as much as 20% of their annual revenue during the Stampede
Be a visible presence – stand out, leave a mark! Show the city and all of it's visitors that your Stampede spirit is alive and well.
Acquire new clients and amaze your existing customers with our country, western and rustic thematic displays!
Nothing says "Stampede" like genuine western-themed items and displays; leaning cowboys, stacks of fire retardant straw bales, wagon wheels, saddles with stirrups, and much more.
We provide indoor and outdoor custom made and tailored displays! Your only job is to pick and choose what you like best from our offerings!
Our team will take care of the rest, including custom design, supply, installation and tear down of displays so you have nothing to worry about.
Our display items include…
Branded Signs
Silhouettes
Western Props
Fire Retardant Straw Bales
Wood Lettering
Decorative Fencing
…and more!
Need something extra? We can provide that too!
Let us help you stand out from the competition for
The Calgary Stampede 2017!